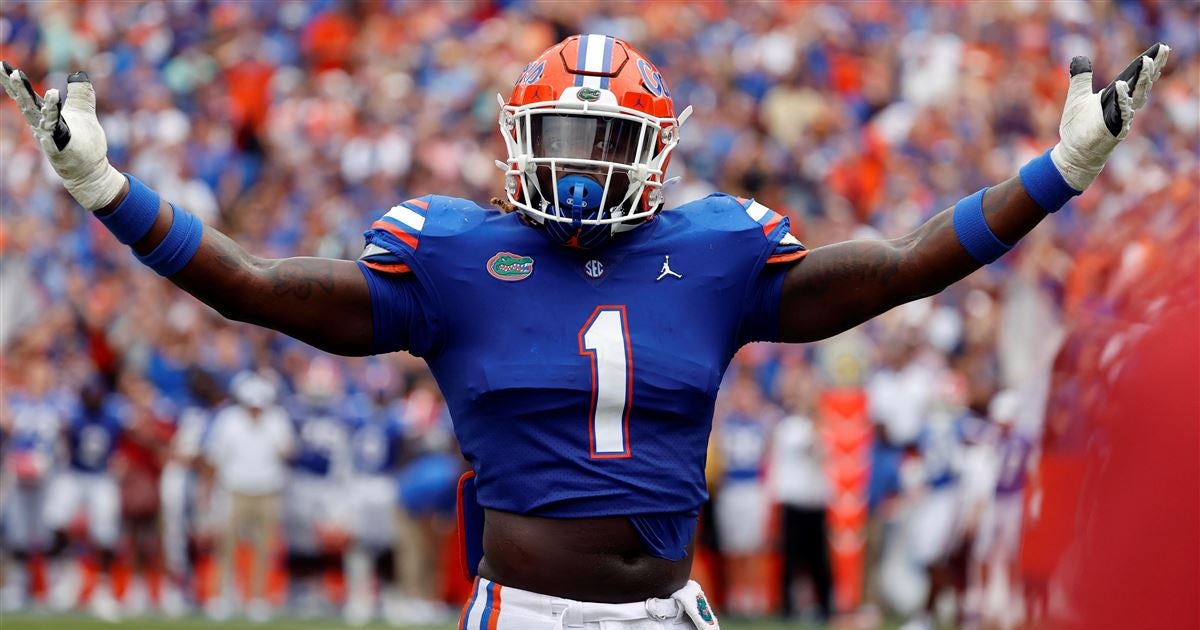 Cox's dismissal sends message to players
The news of Brenton Cox Jr.Sunday's dismissal from the Florida football program surprised the masses when it was revealed on Monday, considering Cox was a former five-star prospect who had started every game this season in what was to be his final season of college football.
Florida head coach Billy Napier chose not to release details of what led to Cox's departure from Gainesville, leaving those outside the UF football complex to wonder what led to the parting ways.
"I don't know if we would be specific about the cause of the decision. I think it's more of a cumulative effect here," Napier said. "We keep that in the house."
Cox is not the first player to be fired from the Florida program, although it should be noted that many of the previous dismissals in recent history were due to legal issues, which is not the case with Cox from what Swamp247 learned from the situation.
As for Napier, he's not the first UF head coach in his inaugural season with plans to fire a high-caliber player.
Former UF head coach Will Muschamp has fired senior cornerback Janoris Jenkins after his third arrest in 24 months, the latest straw being a misdemeanor possession charge for less than 20 grams of marijuana. Jenkins was coming off a season in which he was named an All-SEC first-team selection by the Associated Press and was considered a potential first-round NFL pick prior to his removal from the program. Jenkins, a Pahokee native, finished his UF career with eight steals and he was ultimately selected in the second round of the NFL Draft by the St. Louis Rams.
At the time, Muschamp was acutely aware of Jenkins' talent despite his arrival in Gainesville, but it was important for Muschamp to set a precedent that continued run-ins with the law would not be tolerated, let alone go unpunished.
While the situation with Cox is due to internal infractions rather than legal issues, Napier found himself in a similar situation on Sunday: Facing a disciplinary issue on the roster, Napier had to make the difficult decision to part ways. of Cox, a decision he called "in the best interest of the team."
Either way, it wasn't an easy decision to make.
"It's tough stuff, isn't it? So I think we're going to keep it all in-house," Napier said. "I think we want to do what we can to help Brenton go forward, but I think it's a healthy thing for our team."
After Napier addressed the situation, the Gators brought in a pair of players – Jaydon Hill and O'Cyrus Torrence – at the desk to address the media, and each player was asked to give their opinion on Cox's departure from the programme.
Torrence, who followed Napier to Gainesville from Louisiana, couldn't recall a time with the Ragin' Cajuns when the head coach had to cut ties with a roster player, let alone a starter within the defense in the No. 1 shirt.
"Not that I can remember," Torrence said. "We had issues with players, maybe, that I wasn't aware of, but mostly not."
He was aware that it is a red flag to those in the building that certain behaviors will not be tolerated, regardless of someone's status on the list. For the team, from starters to extras, Cox's firing served as a reminder that playing the game at the Southeastern Conference level is a privilege.
"(It's) a message that some things you do, you just can't stand as a team, as a whole," Torrence said. "We're in this thing together, so some things you do just can't be accepted."
They may no longer be teammates with Cox, but not everyone in the Florida building was eager to turn their backs on their former teammate. Before Napier confirmed the news, the fifth-year safety Trey Dean III refuted Cox's initial news report by writing "THIS IS FALSE" on his Twitter account. Dean then deleted the tweet before posting a message of solidarity with Cox.
"Don't Worry 1 I Got You!", Dean posted on his Twitter account shortly after 1 p.m.
They might not agree with everything Cox did that ultimately led to his firing, but the Gators weren't keen on stacking Cox, who will enter the transfer portal at the NCAA or will play for his third team in five years. Whatever he decides to do, the Florida players weren't looking to kick him on the way out.
"It definitely sends a strong message throughout the locker room. He's my guy. I still cheer for B to this day," Hill said. "It caught me off guard a bit. I kind of found out when I arrived. It's coach Napier's decision, and I leave that up to the coach. We just have to keep growing in team and finish strong, but I wish him the best for sure."
As for where Florida rotates with Cox no longer in the fold, the Gators will look to use a rotation of Antwaun Powell-Ryland Jr. and Lloyd Summerall III at linebacker JACK.
The latter missed Florida's 42-20 loss to No. 1-ranked Georgia with a lower-body injury, while the former is approaching the 200 hit mark for the season, having been used consistently in the rotation behind Cox through the first eight games. of the season.
Prior to Florida's 12 p.m. ET kickoff at College Station with Texas A&M, Powell-Ryland Jr. had 11 tackles, including one for a loss, as well as a forced fumble and three rushing quarterbacks. As the Gators look to close out strong as they enter the final month of the season, they will have to do so without one of their veterans and most experienced defensive players in Cox, although Napier believes those who remain in the chamber are able to fill the void.
"We've played a handful of players in this position all year. I think – so AP and Lloyd and those guys will do a really good job," Napier said. "They've played every game for the most part. I know Lloyd was out last week, but we'll continue in that direction."