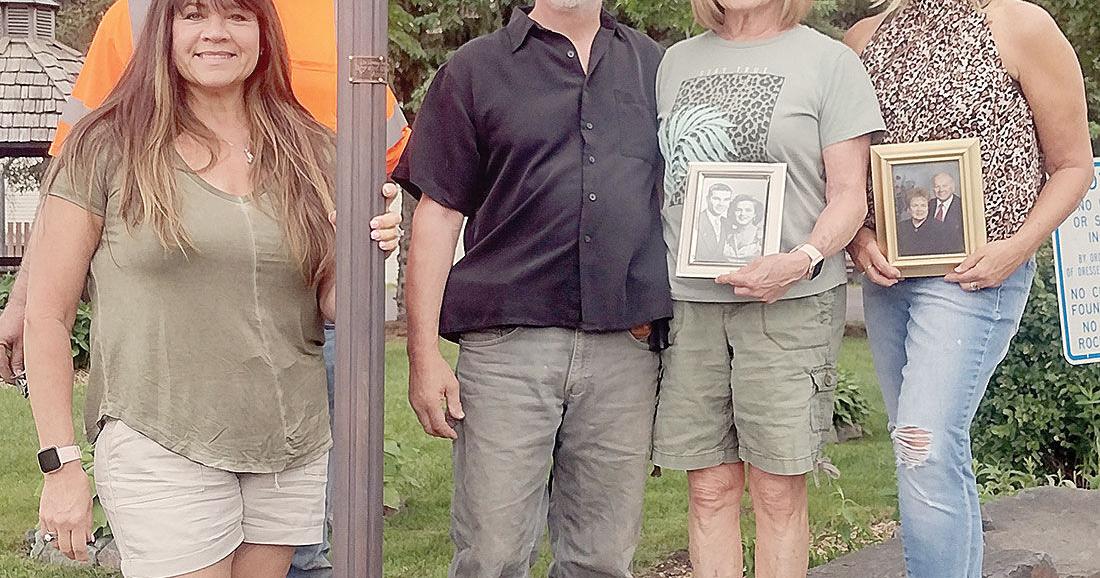 donation from the Andrie family brings light to the village of Dresser | New
This spring, the Village of Dresser received a generous donation from the Andrie family. The family donated and installed a lamppost in Memory Park.
"After our father's death, we thought about how to recognize their dedication and contributions to the community," said Karen Andrie, daughter of Roy and Elizabeth (Beth) Andrie.
Both Roy and Beth grew up in Minnesota. They moved to Dresser in 1956 when Champion Aircraft transferred Roy from Minneapolis, MN to Osceola, WI.
"In 1963, Roy became a Prudential insurance agent. He practiced for 24 years until his retirement in 1987," Andrie said.
"They both loved the outdoors and befriended many couples in the Dresser area. They all went camping, canoeing, snowmobiling together, including the children. Our father also enjoyed tinkering in his workshop, working with wood and reading about history and science. Our mother enjoyed playing cards with her friends and making quilts.
Roy served on the village council, the Dresser Fire Department and was active in the Boy Scouts. Together, Roy and Beth had six children: Karen, Deane, Ron, Greg, Betsy and Michelle. All children graduated from St. Croix Falls. Deane became the owner of Andrie Electric in Dresser. After graduating from Dunwoody, Greg became a partner. Eventually, Deane retired. The electric company is now owned by Greg and two others. Deane, Greg and Karen Andrie also served on the village council. The six children (Karen, Deanne, Ron, Greg, Betsy and Michelle) still live in and around the village.
After their retirement, Roy and Beth stayed in the area for a while. Roy took a few part-time jobs with Dresser Trap Rock and delivered chicks for Utgaar's Hatchery in Star Prairie. Beth was a stay-at-home mom but worked for UFE in Dresser. She loved catering events like weddings and graduations for a local organization. She also did the cleaning next door.
"She was never inactive," Andrie said.
Later in life they were snowbirds and had a model park in Phoenix, Arizona
Beth died in July 2008 at the age of 75. Roy died on November 12, 2021, at the age of 90.
"Our parents were very honest, hardworking and good people. They were always helpful and generous and they had a great time," Andrie said, "Because the sons worked at Andrie Electric, all of Andrie's children thought it would be good to light up Memory Park in their honor.