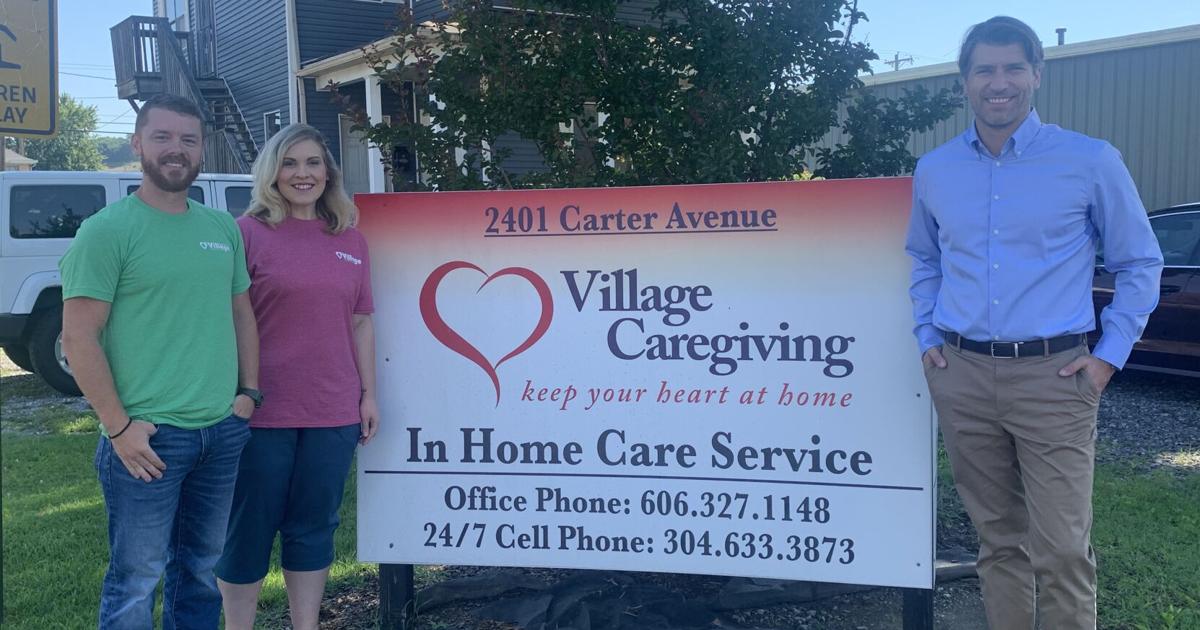 Giving and Growing: Village Caregiving continues to grow its customer base, workforce and footprint | New
ASHLAND Nearly a decade after three local lawyers launched a business inspired by loved ones, Jeff Stevens said Village Caregiving has expanded beyond its initial vision, that of Andrew Maass and Matt Walker in 2013.
From spring 2021 to summer 2022 alone, the organization has seen a drastic jump from 900 to 1,700 employees, and from around 2,000 to now 3,000 customers. Geographically, Village plans to have 50 operating sites by the end of the year – ranging from Baltimore, Maryland, to Omaha, Nebraska (and as far north as Ann Arbor, Michigan, and as deep south than Nashville, Tennessee).
Stevens, a graduate of the University of Kentucky, said he, Maass and Walker — all from the Barboursville, West Virginia area — learned many valuable lessons along the way.
When asked to highlight those lessons in an interview last week, he looked to Josh Yates, the executive director of Ashland's office.
"How important it is to have talented staff members," Stevens said. "At first, I thought it needed people with experience in home care, but that's not necessarily the case. It's more important to have good, honest people who are ridiculously talented and good at solving problems. …and to have directors like Josh, who is great. It's a star. »
Caregivers, however, are the face of the business, Stevens acknowledged.
"Our reputation is in their hands," he said. "This relationship between carer and family is really special – more so than I would have imagined. … There is a really special bond. It provides a great sense of purpose because it drives home the purpose of what we do. It's a business, sure, but it changes people's lives.
"Sometimes the caregiver is one of the three most important people in a person's life," he continues. "He's their doctor, their pastor and their caregiver."
Maass, Walker and Stevens have all used similar services for a grandparent. "Results have been mixed," Stevens said. So an idea was born.
"We thought we could provide a better level of care," he said. "It was something that was personal to us. For me, it was the end of my grandmother's life and I found myself taking on a lot of tasks to take care of her. It can be very exhausting.
"It's important that if you have a limited amount of time left with someone that you try to enjoy it as much as you can," he added, "and that it doesn't become a burden or work. not for you. If you have a business like Village Caregiving that can provide that, it's life changing.
Yates and Stevens both said their goal was not to remove other facilities such as nursing homes, but to provide people with an option for a loved one to stay in their home while still receiving care. ugly.
"On the caregiver side, they can come from any background – the main focus is, again, good, honest people," Stevens said. "Experience is more important on that side because they may need certain skills. We also have nurses on staff who train them."
All hires must pass a background check (state and federal fingerprinting) and complete training courses.
Stevens and Yates said Village provides a flexible schedule for caregivers. Employees get as many days off as they need.
"Does this correspond to your life? is one of the top questions for a potential employee, according to Stevens.
Yates said carers at Ashland were between the ages of 18 (the minimum) and 71. They're also sticking around, Yates said, citing very low staff turnover.
Stella, 71, is the best of Yates, he said. It is not uncommon for Heidi Pennington, director of operations, to entrust him with 60-hour weeks.
"She takes care of people younger than her and they love her," Yates said.
Another young woman drives from Greenup to Louisa pretty much every day and "never misses a day," Yates said.
And then there's also an employee who hasn't missed a single shift in over three years.
"It's almost scary too, because I don't have a replacement for her," Yates said with a smile.
Ashland now has about 100 caregivers. The office covers Lawrence, Elliott, Carter, Boyd and Greenup counties, Yates said.
"It's pretty easy on a day like today," he said on a clear 85-degree morning in mid-July. "But put 3 inches of snow on the ground, and that's another story."
The needs of the Village's clientele vary from a little help cleaning the house to serving a bedridden and/or incontinent person.
"Our caregivers are so selfless," Yates said. "There have been several times where they have stayed the night at someone's house because they know the shift starts at 7 a.m. and it might snow that night or whatever."
In Kentucky, half of the clientele is private and the rest are eligible for VA. There is a waiver program that allows him to be funded by Medicaid in Ohio, which Yates hopes can happen soon in Bluegrass State.
Stevens is pleased with Village's growth, which has been slow and steady, he said. Both Yates and Stevens said research indicates Village is now the largest private home care agency in America.
"We're not trying to microwave our success," he said. "It was responsible."
Yates said Village "bridges the gap between living at home independently and going to an institution." Village is also present in certain service residences.
For more information about Village Caregiving, visit villagecaregiving.com, email [email protected] or call (606) 327-1148. Ashland's office is located at 2401 Carter Ave.