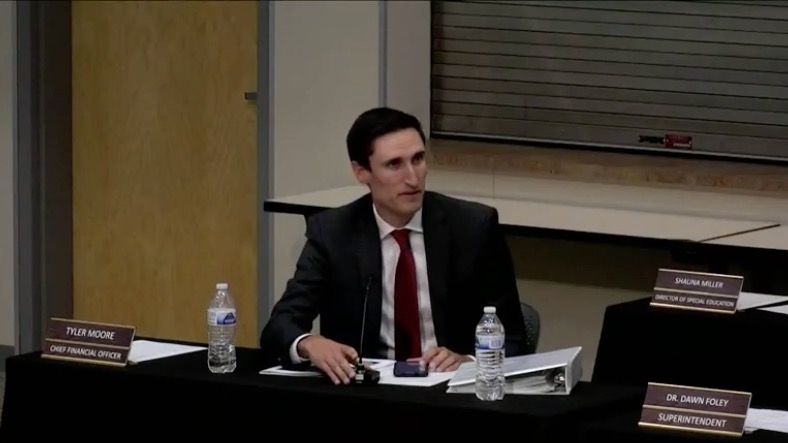 Higley USD Managers Demonstrate Obligation and Cancel Uses
Higley USD Chief Financial Officer Tyler Moore reviews the details of the upcoming bond election to the District Board of Directors. (Screenshot from YouTube)
Officials from Higley USD presented to the board on October 13 how the district had used its replacement funds for maintenance and operations and reallocated money from the 2019 election bonds.
The waiver, which allows the district to levy a secondary property tax to increase the district's maintenance and operations budget by 15% over the state limit, was passed with 64% of the vote in 2019. The district spent $ 12.01 million in exemption money during the fiscal year. 2020-21 on the five uses described on the ballot:
$ 6.01 million on increased teacher compensation;

$ 601,000 for the maintenance and improvement of special elementary school classes, such as art or music;

$ 2.4 million for maintaining the average class size;

$ 1.56 million to support the education of the gifted, special education and full-time kindergarten; and

$ 1.44 million to provide educational resources for classrooms.
Voters in 2019 also approved, with over 66% of the vote, the reallocation of the remaining $ 14.62 million from a 2013 bond to be spent for purposes other than those originally approved in 2013. During the fiscal year 2020-21, the district spent $ 4.89 million of the bond on:
$ 3.69 million to build, renovate, renovate and improve school facilities;

$ 216,000 on technology upgrades;

$ 842,000 for student transportation; and

$ 141,000 to build, renovate, renovate and improve school facilities for administration.
The district has a new $ 95 million question on the November ballot.
Annual financial report
The Board of Directors unanimously approved the annual financial report for the fiscal year 2020-2021.
The report is required by state law and is intended to disclose budget performance to the public, according to the state's General Accounting Office. It includes the financial statements of the general fund; a comparison of actual allocations to expenditures; and statements of income, expenses and changes in fund balances.
According to the report, HUSD spent $ 78.51 million in maintenance and operations funds, $ 6.8 million in classroom funds and $ 8.73 million in unrestricted capital spending. The district closing fund balance for maintenance and operations was $ 27.11 million, compared to $ 14.54 million at the start of the fiscal year; funds for the classroom site were $ 2.94 million, compared to $ 3.2 million; and unallocated capital expenditure was $ 10.41 million, compared to $ 13.46 million.