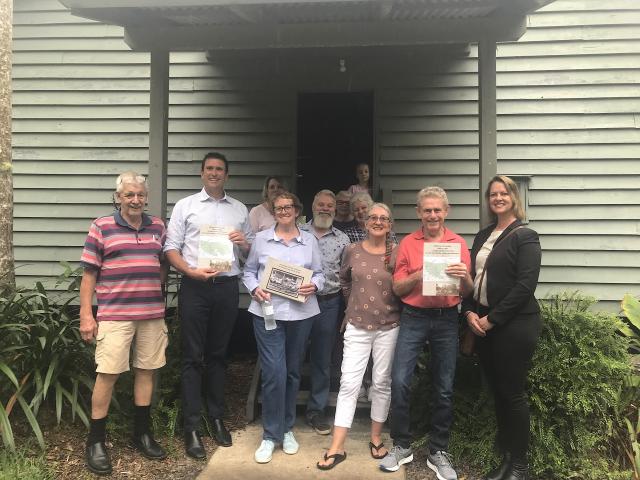 Homemade Village History | Noosa today
By Phil Jarratt
A bombshell of rain was expected to arrive any minute, but nothing was going to dampen the enthusiasm of the pioneering families of Verrierdale as they gathered in their beautiful tongue-and-groove community hall to celebrate the launch of a story written by the community, for the community.
I previewed History of Verrierdale 1860-1960 in these pages a month ago, but hadn't seen the finished product until last weekend.
It is a small beauty, all the more precious as it is almost entirely the work of the descendants of settler families, working alongside more recent arrivals who have also embraced the rich and untold history of the village.
Of course the Sunshine Coast Council helped fund the printed bill and, following pressure from the more brazen pioneers, Ninderry LNP MP Dan Purdie agreed to spit for other pending bills , but overall it was a tough 18 months of self-funding. yakka for the group assembled by editor Kathy Lynch and her husband Phil Asshole, longtime residents who had gone in search of local history and found there was none.
As Kathy told the launch crowd, "We started this project at an Australia Day rally in this room last year, not really knowing how we were going to make a book, so we We just talked to the public about it that day and asked how many people would be willing to help.
"Suddenly there was a sea of ​​hands and we had our core team. After several cups of tea and a few drinks, we put this book together.
"There wasn't much information about the early Verrierdale community and where it came from, but we scoured the various websites, archives and books until we started to find our story."
Among the core team of five people who helped Kathy and Phil research and write the book were two descendants of prominent settler families.
Fay Rimmington's grandparents, Robert and Lizzie Butler, arrived from England in 1913 and occupied 320 acres, where they cut timber and raised dairy cattle, later supplying cream for the Eumundi butter factory. Later, Fay's father, Frank, switched from dairy farming to banana farming and smallholding. Her earliest memories include riding a horse to school.
Fay Wiggins was one of five children of Ted and Thelma Lynch who arrived in Verrierdale in 1943 and farmed bananas, pineapples and pawpaw, as well as raising dairy cows and pigs. Ted then expanded his interest in beef cattle and cross breeds for better results.
A resourceful and hardworking couple, Ted and Thelma used to split fence posts together, and as a young girl Fay also became proficient with the crosscut saw.
Former Maroochy Shire Councilor Kent Hartshorn was also part of the extended team and could lay claim to his own stock of settlers, having been born in Verrierdale shortly after his parents Fred and Win arrived in 1954 to start farming . Since there was no house on the property, Kent and his two older brothers got their first taste of Verrierdale life in a 24 x 12 foot packing shed.
As formalities drew to a close at Verrierdale Hall, former students of Verrierdale State School (closed in 1963) were asked to come forward. Half the audience stood up.
Then Kent Hartshorn called for telling stories from the fabled past, promising there would be free beer to follow.
A little old lady stood up and nervously related how she and her sister had gone to a fancy dress party in the hall with blue crepe paper dresses their mother had made. Finding her form now, she added: 'But that's nothing compared to my Uncle Frank, who went to a New Year's Eve party here dressed as a baby. He borrowed a bed sheet from his mother and made a diaper, then he went down to the creek behind their house and smeared the back of the diaper and the bottom of his legs with mud. Apparently it made a lot of noise.
Loud applause and the floodgates had opened.
With the guys jostling for the mic to remember having to push the family up the big hills to get to the Saturday night photos at Eumundi, it was time to slip away, Jack.
If you would like a copy of History of Verrierdale, email [email protected]