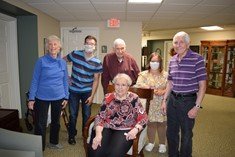 Independence Village puts itself in the spirit of the neighbor
Editor's Note: The Daily News has partnered with the organizers of Midland Neighboring Week to release vignettes featuring Midlanders discussing what it's like to be a neighbor in Midland. This is the last part of this series.
As we wrapped up talks for Midland Neighbors Week, we had the opportunity to visit Independence Village, an assisted living complex with a solid understanding of neighbors. We caught up with Life Enrichment Director Kate Wesolek-Dutcher and General Manager Allison Williams for a brief visit, before introducing us to the residents of their "neighborhood".