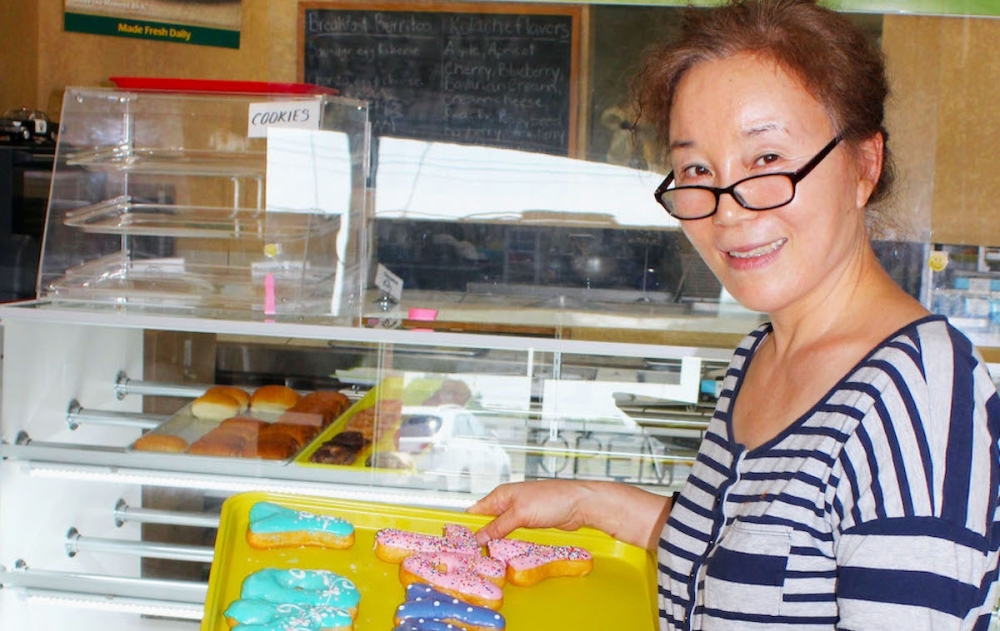 Owners bring decades of experience to Kolache Donuts Bakery in Highland Village
Kay Kim and her husband, Hueng, own the Kolache Donuts bakery in Highland Village. (Karen Chaney / Community Impact Journal)
After a brief stint in retirement, Hueng and Kay Kim decided that relaxing and traveling was not for them.
The Kim's owned and operated a popular donut store in Oklahoma for 20 years. After a two-year hiatus, the couple bought Kolache Donuts bakery in Highland Village in 2019.
"We have really missed the customers," Kay said. "I was missing creativity and design. "
The couple chose to settle in Highland Village because they have family in Coppell. "This business was similar to what I was used to, and the place is beautiful," Kay said.
Before opening the store in Oklahoma, Hueng worked in a bakery and Kay was a florist. As Hueng had bakery experience, he first took on the role of custom decorator.
"I realized I could do it and took it back, and the customers were happy," Kay said.
When customers request a custom cookie or donut pattern, Kay draws the pattern and Hueng makes the metal cutter if they don't already have it in their 400+ piece collection. In addition to the frequently requested alphabet and number cutters for individual messages, they also have palm trees, dinosaurs, trucks, flamingos, tutus, musical notes, graduation caps and much more.
Kay said her work day usually starts at 1 a.m. when she is making the kolache dough.
"While the kolache dough is rising, my husband slowly cooks the donuts," she said. "Some places use hot water. We cook them slowly.
When the store first opened, most of the customers were from nearby neighborhoods. Now they also have clients from Flower Mound, Denton, Frisco and Lantana.
Kay said she was grateful to her clients for posting rave reviews on social media, especially during COVID-19. She reports that business has doubled since they bought the bakery.
"During COVID[-19], business has ceased. … I'm crying. I couldn't even pay the rent, "Kay said. "But then the customers on social media said, 'Let's go over there,' and a lot of customers came to help me and made me stand out. My business has grown.
Bestsellers:
Sausage rolls: small $ 1.19 each; with jalapeño $ 1.29 each; giant $ 2.29 each
Fruit Kolaches: $ 1.29 each (Flavors: apricot, apple, cherry, blueberry, peach, raspberry, pineapple coconut and more)
Frozen donuts: $ 7.50 per dozen
Personalized donuts: approx. $ 1.89 each (design included)
Personalized cookies: $ 2.29 to $ 2.99 each
There is no charge to make custom cutters, but customers must order three days in advance. If the cutter already exists, order a day in advance.
Kolache Donuts Bakery, 2930 Justin Road, Ste. 400, Highland village. 972-966-1464. www.facebook.com/KolacheDonuts Bakery opening hours: Tue – Sun. 5 am-12pm, closed Mon.
">