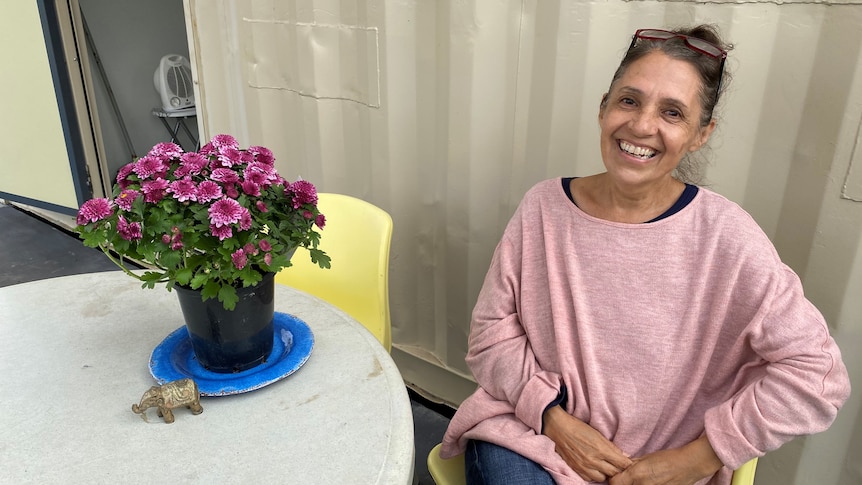 Pod village opens for northern NSW flood victims, resident says it brings stability and community
As Daniela Gonzalez sits under her awning, surrounded by tall potted plants and two wind chimes tinkling in the breeze, you can't wipe the smile off her face.
Daniela was one of the first people to move into a makeshift village of salvage pods set up to house people left homeless by flooding in the rivers of northern New South Wales.
It's a far cry from the uncertainty she's faced since floods destroyed the trailer she's been living in at a South Lismore caravan park.
After the flood receded, Daniela spent time with a neighbor and then with a friend.
Eventually, she returned to her sodden, unusable trailer, sleeping in loot.
"I had to empty it because it was starting to smell, the food was rotting, the clothes, it was horrible," she said.
"I just didn't know what I was going to do, where I was going to go, it was getting cold and I was miserable."
Daniela received a text message from Service NSW asking if she was interested in a pod (a single donga-like room) on a Thursday. She had a visit the following Monday and was thrilled to move in that night.
Daniela received 12 months of hosting in her pod.
"For a year, I know, OK, I can go down if I want to fix [my caravan] or if I have to get rid of it or whatever I'm going to do, but I'm stable for a year and I don't need to go anywhere," she said.
Villages in the making
At Wollongbar Sports Grounds, about 20 minutes from Lismore, a row of pods are open and manned.
The modules, provided by the Minderoo Foundation, look like shipping containers that have been converted into living spaces with kitchens, bathrooms and washing machines.
They were developed after the Black Summer bushfires and can accommodate up to four people.
Larger portable buildings will be installed for larger families, and mobile homes can be found just down the hill for people requiring shorter stays.
About 10 people have moved into the pods so far, but the site, which is still under construction, is expected to accommodate around 220 people when complete.
North Coast Community Housing (NCCH), an established affordable housing provider, oversees the site and its tenants.
Additional services are provided, including a security presence and support workers and social workers to help tenants recover.
"Housing is the easy part. The hardest and most important part is meeting people where they are," said NCCH chief executive John McKenna.
The state government said it would establish around 800 more pods at eight more locations in the coming weeks.
Work has started at Pottsville North in the Tweed Shire, while other sites have been selected at Wardell, Evans Head, Lindendale, Lismore and Woodburn.
The temporary villages could remain in place for up to two years, as needed, before being dismantled and the sites rehabilitated.
Not just a house but a home
Daniela said NCCH encouraged her to bring plants and the few items she collected from her trailer to make her pod more welcoming.
"That's lovely," she laughed.
"I know it sounds really cliché but it's not, it's really lovely.
Mr McKenna said NCCH was also planning to introduce courses and activities for tenants.
"We can talk to people, find out what they were doing before the floods, and then see if we can reconnect them to do some of these activities in the village," he said.
"Helping them get back closer to what was normal before the flood."
Daniela said she spent hours talking to her new neighbors in the nearby pods and enjoyed the sense of community.
"That's what I liked about the caravan park, it wasn't isolated – and that's what I like here too, they're all really friendly," she said.
Daniela said she hoped 12 months in her pod would give her some financial security and time to find a new home but, despite the hardships she faced during the floods, she remained attached to the rivers of the North.
"There's something here that's unlike anywhere else, so I think I'd definitely find something here, somewhere where there's no flooding," she laughed.
Post , update