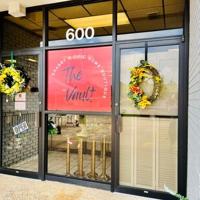 The Vault in Wake Village opened in July; already has a waiting list for sellers | Texarkana
WAKE VILLAGE, Texas — The Vault Shabby and Chic Home store in Wake Village, Texas, opened its doors last July and already has a waiting list for its sellers.
On Saturday mornings, the store hosted the "Local Food and Makers Market" from 9 a.m. to 12 p.m., which offered farm-fresh meat, fresh eggs, jelly, granola, baked goodies oven, desserts and fresh bread.
The pop-up outside The Vault could be seen while driving around the roundabout off Redwater and Burma roads.
"We're going to have it once a month in the parking lot and these vendors came from the Texarkana Farmers' Market that closed on the eighth," co-owner Alicia Utz said, "It's just a natural place for them to come. and set up outside because we are located on the circle so there is a lot of traffic and their customers followed them from downtown to here.
The Vault, open Wednesday through Saturday, specializes in home decor and more with gifts, collectibles, vintage and antiques. It has an interesting setup as its wares and vendors can invariably change every week.
What sets this place apart from most vendor-supported markets is that they have local artisans displaying their wares here so co-owners can focus on bringing business to their locals.
Co-owner Penny Cole said: "A lot of them have stalls here. They're also our vendors, so it's just an extension of what they were selling here, and then they were able to provide more outside in the popup.
The two ladies started thinking back in April because they both love treasure hunting and each had too many things they wanted to sell. This is how the idea of ​​The Vault was born.
Once a month, The Vault will host a pop-up event inside, after hours and it is planned as a Make-and-Take, Do it Yourself (DIY) event to show people how to create or craft things that will be offered for a small fee.
The Local Food and Makers Market events are scheduled for one Saturday per month and will end in October, as this is the end of the farmers' fall produce.
The next one is scheduled for September 17, and their October date has yet to be set.
Currently they have a waiting list for their vendors.
Cole said, "We just signed on with five new mini-vendors and they'll be starting the first one, but we have another four or five who have a mini-vendor and want to become a big-vendor."
A mini is a 3ft wide section where the seller can use the display as a shelf or baker's rack for example, or however they wish to display their wares.
Larger booths are rented by the square foot.
Both Utz and Cole agree since every week turns out to be a different week with different sellers with unique sales and different products, it might behoove the savvy buyer to check in to The Vault at least once a week. week.
The safe is open on Wednesday. until Fri. from 11 a.m. to 6 p.m. and every Sat. 9:30 a.m. to 5 p.m.
And, is located at 600 Redwater Road in the circle of Wake Village, Texas.
They can be reached at 903-793-7054 or you can visit their Facebook page at: [www.facebook.com/TheVaultWakeVillage/]www.facebook.com/TheVaultWakeVillage/.