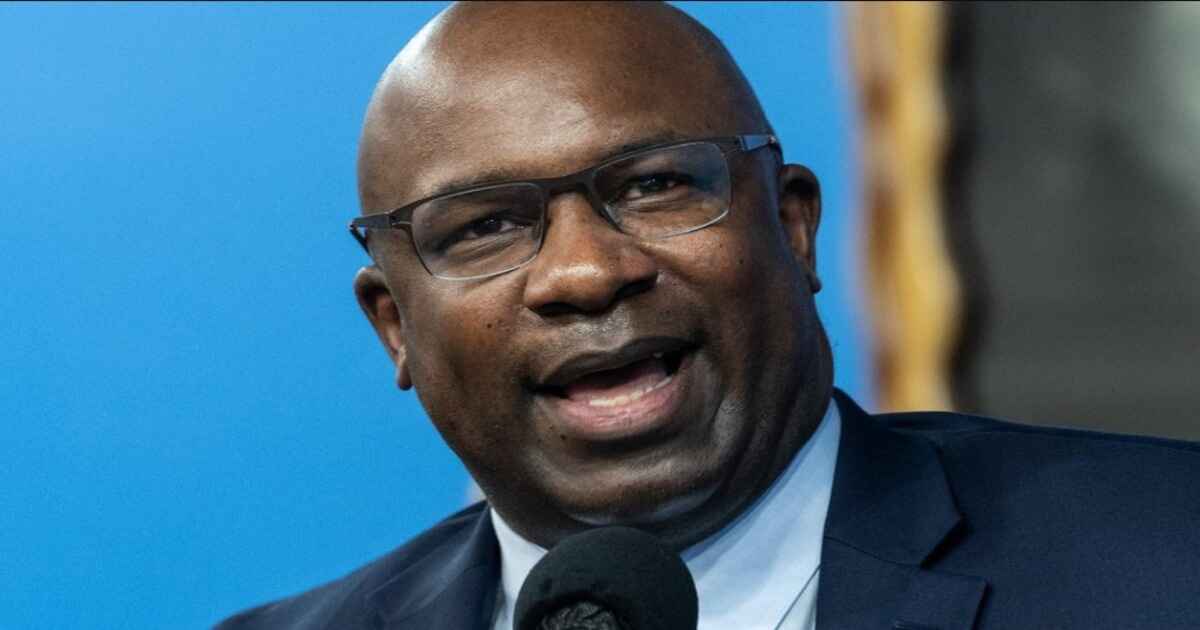 US Congressman condemns human rights abuses in Pakistan
US Congressman Jamaal Bowman spoke out against human rights abuses in Pakistan and urged the government to uphold the rule of law.
Congressman Jamaal Bowman currently represents New York's 16th District, which includes the North Bronx and parts of Westchester County, including Yonkers, New Rochelle and Mount Vernon.
He recently met with senior leaders of Overseas Pakistanis, including Sajjad Burki, PTI President Imran Khan's US focal point, as well as Atif Khan, Chaudhry Akbar, Imran Igra, Mohammad Malik and Nusrat Jamal .
Keeping in mind the current political and economic crisis in Pakistan, Congressman Jamaal Bowman emphasized in a video statement that the United States must continue to be a leader in human rights and the leader of diplomacy in Pakistan and around the world.
Read more: Human Rights Issues in Pakistan: The Plight of an Ordinary Man
"We have to stop solving problems with subterfuge, conflict and with war," said Jamaal Bowman.
Stressing the importance of democracy, Congressman Jamaal Bowman said democracy and human rights in Pakistan must be upheld and it is essential that governments work for the people with the voice of the people in head, without corruption or subterfuge.
It is worth mentioning that Pakistan has recently seen a sharp increase in repression of the media by the incumbent government. News channels were suppressed and prominent journalists were arrested and tortured. Human rights violations have sparked international concern.
"We have to make sure that we lift people up and stay close in our relationship with Pakistan. Let us speak out against all the injustices happening in Pakistan and all over the world," the Congressman added.
Congressman Jamaal Bowman of New York's 16th Congressional District met with Pakistani-American community leaders, including @SajjadBurkiUS focal person to the PTI President.

He said: "We must stop solving problems with subterfuge, with conflict and with war." pic.twitter.com/CVPSQK2lpL

— PTI USA Official (@PTIOfficialUSA) September 21, 2022
Pakistan's complex political situation
Interestingly, Congressman Jamaal Bowman's video statement comes at a time when Pakistani Prime Minister Shehbaz Sharif and his cabinet delegation are in New York to address the 77e session of the United Nations General Assembly (UNGA) scheduled for 23rd September.
On the sidelines of the UNGA session, Prime Minister Shehbaz met with world leaders to brief them on the flood crisis in Pakistan. The Prime Minister also met with the Managing Director of the International Monetary Fund, Kristalina Georgieva, who expressed her deep sympathy for Pakistan and its people.
Since key members of the PDM coalition government are in New York, overseas Pakistanis living in the United States staged a peaceful protest campaign outside the UNGA building on 23rd September – the day Prime Minister Shehbaz Sharif will address the UNGA session.
Read more: Overseas Pakistanis: Hail New Kingmakers
To clarify, Overseas Pakistanis, endorsing the narrative of PTI Chairman and former Prime Minister Imran Khan, have refused to recognize the legitimacy of the current hybrid regime and believe that the incumbent government is solely responsible for the deterioration of political and economic conditions in the country where freedom of expression has been curtailed, political workers tortured and media networks punished for criticizing the government and its policies.
Imran Khan – who is currently Pakistan's most popular leader – demanded immediate free and fair elections. However, the PML-N led government is adamant about holding the elections on time. As a result, Imran Khan decided to launch the "Haqeeqi Azadi" (real freedom) movement and called on his followers to prepare for his final call.