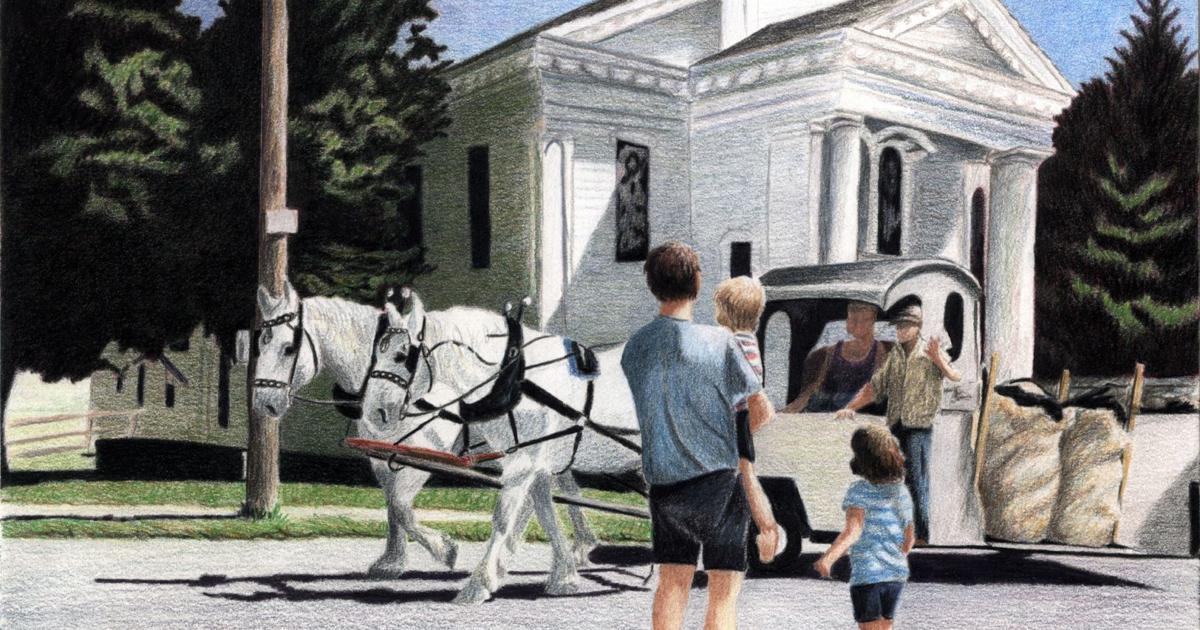 'Vermont's Villages': Vermont Artists Celebrate Home | Vermont Arts
Sometimes breathtaking views of the mountains, village greens in the center of town, one-of-a-kind general stores, small holiday parades – it's all part of what makes Vermont special and the next three exhibitions of the Brandon Artists Guild celebrate this.
"I hit the road a few days ago on a road I've driven many times and I still had to slow down," longtime artist and BAG member Judith Reilly said Monday morning. "Every time (you) drive down the road, whatever direction you're going, it's so beautiful. I never take that for granted, and we want to celebrate and acknowledge that.
The three-part, all-members-only exhibit begins with "Vermont's Villages," which opened Friday and will run through April 1. In May, "Vermont in the Country" will open and in July "Vermont Road Trips" will close the series, celebrating the beauty and uniqueness of Vermont through a variety of mediums from painting to photography to textile arts.
One of the factors in choosing the Vermont theme came from a noticeable change that has taken place in the arts over the past few years.
"Artists discover (that) the arts change," Reilly said. "I've been on the board of the Vermont Craft Council for many years, I've worked with several other arts organizations, and I've seen a shift in who our artists are, what kind of art they make. and how they make themselves known. An artist gallery, organization, or guild, like us, has to operate a little differently than we did before.
The Brandon Artists Guild is unique in that it is an artist-run gallery, with approximately 30 exhibiting members. It's a cooperative, as opposed to a gallery with an executive director, paid staff and high commission rates, Reilly explained. It goes beyond the concept of volunteering to what Reilly called "a vested interest."
"Our artists come and they work," she said. "Everyone comes and is part of it, which limits the number of artists who are really interested."
But that's part of what makes the BAG special.
"I think most of the artists in the Brandon Artists Guild are out there looking not just for a place to share their work, but also to find a strong community of artists," Reilly said. "It's vital for many of us."
The Vermont theme was chosen in hopes of uniting new and old members and inspiring their individual perspectives on the quintessential small town charm of Vermont.
"So many people come to Vermont for the small towns and the historic architecture," Reilly said. "Brandon has over 250 homes on the historic register."
"What's really special about these themed events is that they give us fodder for inspiration," Reilly said. "Many of us lock ourselves into a certain path in our design; we all have our own style, but the themes bring us together and inspire us to take a path we might not have taken before. It gives us something to stretch out, to pull us out of our box.
One of Reilly's current images, "Brandon, Vermont," is one she's been working on for a few years, but the urge to exhibit gave her the motivation to finish it.
"I'm not a literal artist, I'm a figurative artist," she says, "and I work in a katawampus style, which means you recognize what you see, but it's a bit unbalanced. So I don't have to respond to reality, which makes it a lot of fun.
Over 10 years ago, Reilly incorporated a small bicycle into one of her pieces, which she did on her sewing machine on a whim, not knowing the impact such a small change would have.
"It totally changed the play," Reilly said. "Because it brought in the human element. It wasn't just a building now, it was a house, and there were people without having to put people in it.
Well-known Vermont photographer Lowell Snowdon Klock also worked in the show, including one of a parade in a small town.
"When I first saw (that) I thought, 'That's a surprise,'" Reilly said. "But it's something that makes our little villages very special."
"These group shows have proven to be an exciting adventure for us," Reilly said. "I'm always amazed at the level of participation. It's not a requirement of our members, it's an opportunity and I've never been disappointed with what our artists have brought.